Sight, smell, taste, touch, and hearing are the five senses that your child will use every day whilst interacting with toys.
Simple playtime activities are educating and stimulating for your child's brain. And playtime assists overall child development skills, which is why we take the time to develop quality wooden toys, which will inspire every single one of your child's senses, encouraging educational development and maximum stimulation for your child's personal growth.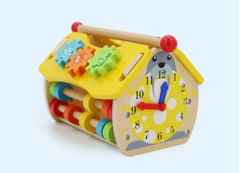 Your child will be getting an education in skills that will last a lifetime, creating a confidant, well-balanced individual all through the art of playtime and fun. To learn more about the benefits of playtime and sensory play view our wooden push and pull toy range and our musical toy range. Both of these collections will encourage your child to develop lifelong skills such as dexterity, logic, and emotional expression.
We take utmost care in creating beautiful strong carefully polished wooden toys, resulting in smooth surfaces that are finished to the highest standards and painted with high-quality non-toxic environmentally friendly water paint. Our toys have bright, colorful surfaces that will attract the first sense of sight which will be quickly followed by the sense of touch and then quite soon, either the hearing, taste, or smell, depending on which fun toy your child selects. Our toys are sturdy and will endure many years of rewarding playtime activities, so sturdy in fact; they will be perfect to hand down and share with a baby brother or sister. Encouraging many years of shared playtime memories as the older child stimulates repetitive play to his/her younger sibling. Not only will this be a delight to watch, but it will also enhance your children's bonding and close relationship.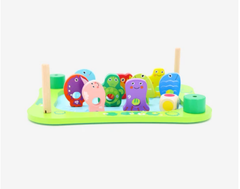 Magnetic Wooden Fishing Game Toy are a perfect example of a shared game with children of different ages. An older child can build blocks using his or her sense of sight, touch, and hearing as the blocks connect with the sturdy wooden texture. A younger child will enjoy watching this game and share the delightful fun as the blocks fall down.  The laughter and cheer will create sound, in a positive amusing way, and of course this a wonderful, fun, bonding time.
One must-see toy for sensory development is the Montessori Capital and Lowercase Letters Blocks. This well crafted, colorful Montessori set is a perfect introduction to puzzles for young children. The wooden alphabet toy fulfills a child's natural desire for knowledge and problem-solving ability. It creates a sensory play that encourages children to learn the shapes of capital letters with their hands, whilst helping to improve capital letter recognition and memory skills.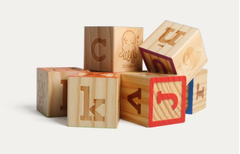 Isn't it incredible that so much development and emotional wellbeing can be learned whilst your child is having so much fun!
Music and movement always keep children active and engaged, using all their senses combined, resulting in a fit, healthy, and happy child.