Christmas is such a wonderful time of year and we understand how valuable family time at Christmas is. Although this year might look a bit different – you can still partake in an exciting gift exchange. We have a wonderful selection of wooden Christmas toys for children of all ages. And our website gives parents and grandparents an easy shopping experience. Shop from the comfort of your own home and send a loving gift to the children in your life.
We love our wooden dinosaur family set which is an ideal Christmas present for a young baby. With the dinosaur pieces, Mum or Dad can create a fun homemade decoration to stimulate baby's eyes and encourage movement as baby reaches out for the beautifully coloured shapes. The dinosaur toys will always stimulate the imagination and promote parent-child interaction. Then as your baby grows, the dinosaur set can be used for hours of imaginative play time fun as your toddler creates their own exciting dinosaur adventure game.
Or maybe your toddler would like their own wooden vehicle assembly cars and trucks selection. We recommend these delightful educational toys for children as young as one years old. These toys will encourage learning through playing whilst enhancing your little one's creativity and dexterity as they take the vehicles apart and assemble them again. This early learning will help your child develop vehicle recognition whilst building their confidence and interest into a variety of vehicles including a police car, truck, bus, ambulance and many more.
Another of our favourite wooden Christmas toys is the Montessori Capital and Lowercase Letters Blocks which will provide hours of endless fun for your child's learning. These twelve wooden blocks are a wonderful Christmas wooden toy gift for any youngster but we recommend them for children as young as eighteen months old. The different shapes, colourful letters and tactile alphabetical surfaces will spark your little one's creativity and all their cognition skills, whilst also promoting baby's colour and letter recognition. Our high-quality wooden baby blocks will ensure a fun and safe playtime for both childen and parents to enjoy.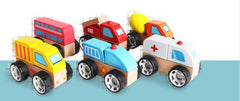 We're also aware of the importance of counting and using numbers on a daily basis, which is why we developed the Blocks Train Set With Colorful Tracks. This fun interactive wooden Christmas toy will help your little one with their number recognition, logical thinking and creativity. The train set comes with tracks, number blocks, trees, trains and carriages. All of which have different colourful surface and shapes which will inspire you children to learn colours and shape cognition. All the numbered blocks can be used in different ways, i.e. to build a number tower or to place underneath the sturdy train track as supporting posts for a fun track with bridges or ramps. This wooden Christmas toy will provide hours of stimulating fun.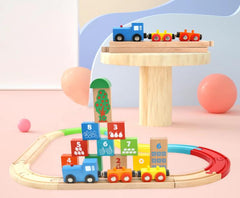 All the wooden Christmas toys at imooore have been carefully produced to enhance your child's education throughout the creative art of play. Our selection of blocks, pull-along toys, puzzles or role play toys will help to develop skills, building muscles and sparking creativity in your children, allowing for hours of happy memorable moments in your Childs life.